As a child, series editor Alisa Kwitney loved reading the strange, thought-provoking, deftly illustrated stories in Red Circle Sorcery and Charleton's Haunted Love and Midnight Tales. Like many of the classic Twilight Zone episodes, these were often love stories—but love stories that involved outcasts, rebels, and misfits. Love stories for the marginalized and alienated.
Liminal Comics is a place for those kinds of love stories.
Read about our call and submission criteria at Submittable.
L
IMINAL

C

OMICS
Love Stories for Outcasts, Rebels, and Misfits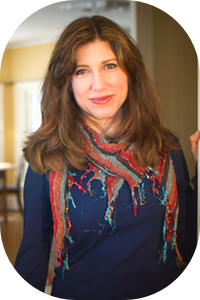 Alisa Kwitney
Editor, Liminal Comics
Alisa Kwitney has a BA in English from Wesleyan University, where she received the Horgan Writing Prize for Fiction, and an MFA in Fiction from Columbia University, where she received a scholarship of merit. Her debut novel, Till the Fat Lady Sings (Harper Collins), was called "imaginative and quirky" in the Sunday New York Times. Alisa was an editor at the Vertigo imprint of DC Comics, where she worked closely with Neil Gaiman on his landmark Sandman comic series and discovered author Mike Carey in the slush pile and helped him develop the first Lucifer series.
Alisa is also the author of nine published novels, numerous comics and graphic novels, and several nonfiction titles. Some of her books include The Dominant Blonde, the acclaimed YA graphic novel Token, the nonfiction titles Sandman: The King of Dreams and Vertigo Visions: Art From the Cutting Edge of Comics, the DC series Mystic U, and the YA novel Cadaver and Queen (Harlequin Teen). Her work has been translated into German, Japanese, Turkish, and Russian, among other languages. Alisa has taught graphic novel writing at Fordham University and The Kildonan School, which caters to students with dyslexia and language-based learning disabilities. She loves working with new writers and artists and developing their prose and visual storytelling skills.