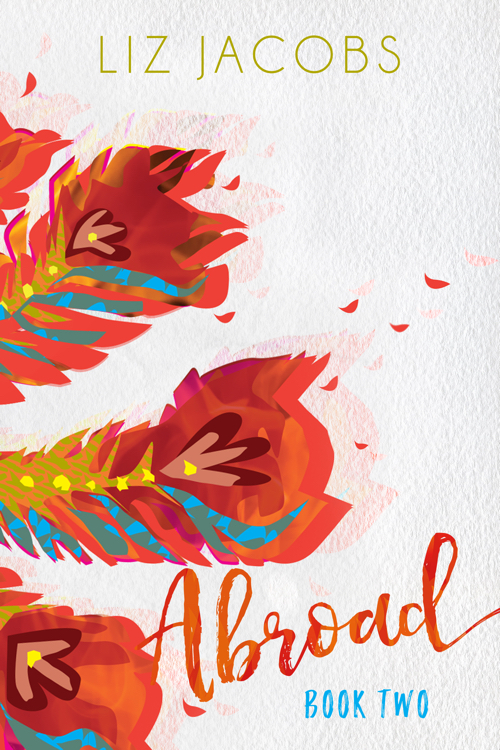 Abroad: Book Two
Liz Jacobs
The Hellum & Neal Series in LGBTQIA+ Literature • Release Date: January 2, 2018
Print ISBN: 978-1-942083-92-4 • Ebook ISBN: 978-1-942083-94-8
Brain Mill Press offers Abroad: Book Two in ebook and in a limited fine first edition printing of signed, numbered paperbacks. Ebook buyers receive access to MOBI (Kindle), EPUB, and PDF files, offered without DRM restrictions. Print book buyers receive a physical copy of the book and access to the ebook files in all formats.
"To anyone who comes from a similar background or has ever felt like an outsider in their own home, who's looking for positive and diverse representation, I cannot recommend this book enough."
—Geeks Out
"I loved every moment of this rollercoaster ride of emotions. I laughed, I cried, and my heart was in a clench for these characters. This book was everything, and the two books together are simply amazing."
—Back Porch Reader
"A highly enjoyable book and a fitting end to these stories. Liz Jacobs is clearly a very talented author, and if these two books are a sample of her ability, I am desperately waiting to see what she comes up with next."
—Love Bytes Reviews
"This story is sensual and heartbreaking, uplifting and funny, with utterly human characters you will fall in love with, even through their many missteps and mistakes. I very highly recommend this book."
—From Top to Bottom Reviews
The heartwarming and romantic conclusion to the duology celebrated by Teen Vogue as "a nuanced and sexy take on growing up and learning to accept who you are."
Nick Melnikov has finally done it — he's come out.
To himself. To his sister. And to Dex, who listens, hears him, and understands. To Dex, who leads him on a sensual journey and shows him all that they could be, if Nick could only find the courage. It's one thing to let yourself be open thousands of miles away from your family, but exchange student Nick is uncomfortably aware that his time with Dex is running out. Who will he be when he goes home again?
Dex Cartwell is as happy with Nick as he's ever been, but he can't ignore the shadow of Nick's inevitable departure from London, back to his life in Michigan. Is it worth it for Dex to expose his heart to another doomed relationship with a predetermined expiration date? What does Dex really want for the beginning of the next chapter in his life, post-graduation?
Dex wants to turn to his best friend in the struggle to find a way forward, but Izzy Jones has her own problems. She's got one friend in love with her, and when she turns to another for help things get twice as complicated. Izzy never wanted complicated, but life just keeps getting in the way — and sweeping her off her feet.
Then Nick's mom and sister come for a visit, and he is forced to decide between living his truth and protecting himself from fear and change. It's going to take a lot of courage and a few leaps in the dark if Nick, Dex, and Izzy are to find a way to live and love on their own terms.
ABOUT THE AUTHOR
Liz Jacobs came over with her family from Russia at the age of 11, as a Jewish refugee.  All in all, her life has gotten steadily better since that moment. They settled in an ultra-liberal haven in the middle of New York State, which sort of helped her with the whole "grappling with her sexuality" business.
She has spent a lot of her time flitting from passion project to passion project, but writing remains her constant. She has flown planes, drawn, made jewelry, had an improbable internet encounter before it was cool, and successfully wooed the love of her life in a military-style campaign. She has been nominated for the Pushcart Prize for her essay on her family's experience with immigration.
She currently lives with her wife in Massachusetts, splitting her time between her day job, writing, and watching a veritable boatload of British murder mysteries.

AN EXCERPT from Abroad: Book Two by Liz Jacobs
© Liz Jacobs, 2017
Chapter One
January 2015
Maybe leaving the safety of Nick's room had been a mistake.
The night before, Dex had all but broken into Nick's dorm and demanded they talk. Which they had. More than. Nick had spilled his guts and Dex had done his best to gather him up and make it all all right. Or as all right as it could be, he supposed.
Their morning after had been everything lovely whilst cocooned in Nick's tiny single bed, sharing hesitant morning kisses that kindled the longer they went on, turning into more sex. Which felt unreal, considering all the sex they'd had the night before.
Then Dex had chanced an invite to take Nick out for breakfast, since they were both ravenous, and they'd emerged from Nick's building to a raw, cold morning. Dex had even taken Nick's hand in order to pull him in the right direction, and Nick had hadn't pulled away. At least, not at first.
Dex stuffed his face with a fry-up and woke his brain up with endless coffee, but now that they were surrounded by people, it was like a screen came down between them. Dex couldn't stop noticing the way Nick's eyes would dart around whenever a new group of people walked through the door, and could not, for the life of him, figure out what to say that wouldn't sound stilted and awkward. Anything he threw out to Nick was answered with two syllables and promptly dropped.
Dex knew about morning-after weirdness, but this felt like…more, somehow. Nick had taken his own hand back after about the third time they'd got a look from some random on the street, and he'd done it in a way that Dex couldn't even point to, not really. Nick had just–adjusted his scarf with it and then stuffed both hands in his pockets. Dex didn't want to read anything into it, but it hadn't precisely felt good.
Now, he chewed the rest of his toast and sipped his coffee and attempted, for the millionth time, to engage Nick in some sort of conversation.
"This place has really good coffee," he said, then felt himself flushing. Strong start.
Nick nodded and briefly caught his eye before going back to his food.
Dex suppressed a sigh.
Told himself to be patient.
One step at a time, right, Dex?
Then he thought, fuck it, and said, "Look, is everything all right?"
Nick's startled guilty look spoke a thousand words. Dex felt a bit of cold crawling up his skin, a sensation like the moment before a drop, and then Nick said in a quiet voice. "I'm–I'm sorry. This is just…"
Too soon, too much, not what he wanted, fuck, Dex was fucked–
"Kinda new," Nick finished and before Dex could panic himself into a further tizzy, reached across the table and touched his fingers to Dex's. "But–it is all right." He huffed out a breath, then gave a tiny smile. "Sorry. I have no clue what I'm doing."
Dex forced himself to breathe as Nick met and kept his gaze.
Of course. Nick had only kissed his first boy last night, and Dex was already expecting him to act the boyfriend. He could have kicked himself.
"No, I'm sorry," he said. "Really." He forced a smile past the embarrassment. "I didn't mean to…put any pressure on you. I just–"
"You didn't." Nick set his fork down too fast and it clattered against his plate. Dex watched as his eyes darted to the side to see if anyone had noticed. Nobody was looking at them, as far as Dex could tell. Nick didn't take his hand away. "I'm sorry I'm so…"
"You're fine." And he was. It was Dex who'd been an inadvertent idiot.
Nick made a face and looked away.
Dex really wanted to take his whole hand and squeeze it, reassure him that it was okay to be awkward, but what if he spooked him even more?
Instead, he forced his hand still, leaned in, and said in a quiet voice that only Nick would be able to hear, Dex hoped, beneath the clatter and the chatter of the cafe. "You're lovely."
Nick did hear him. His mouth quirked and his gaze darted to meet Dex's. His impish smile broke through the worried mask and his eyes crinkled in the corners. He'd liked that. Dex felt himself swelling with stupid pleasure. He pressed his advantage.
"Just tell me if I put my stupid foot in it, all right? I…" Well, in for a penny and all that. "I just really like you. I don't want to fuck it up."
Nick's smile dropped off at that, but then his hand was covering Dex's and he was leaning bodily in, his ridiculous oversized scarf trailing through the eggs and beans on his plate. Dex mirrored him, careless of his own jumper and, frankly, everything else that wasn't Nick. He waited for Nick to speak.
Instead, Nick made one small surge forward and pecked Dex on the lips. Well, he probably tried to but he missed a bit and ended up kissing the corner of Dex's mouth and a bit of chin. But he stayed, and the next moment, Dex moved slowly, carefully, and met Nick's lips full-on. They stayed like that for barely two seconds, but it felt so much longer, somehow. White noise replaced the chatter for that endless moment, and he breathed through the tender touch of Nick's lips to his own.
Then his thighs gave out and he dropped back onto his seat, grinning like a lunatic. Nick looked similarly blissed out, and his face was genuinely flaming. His forehead was the only pale part of him.
"Do you–do you wanna do anything after this?" Nick asked.
"Yeah. Let's do that."