My Tall Handsome
Emily Corwin
Mineral Point Poetry Series, no. 4
Release Date: March 14, 2016
Length: 56 pp., with with interior illustration and foreword by series editor Kiki Petrosino
Print ISBN: 978-1-942083-34-4
PDF ISBN: 978-1-942083-37-5
EPUB ISBN: 978-1-942083-35-1
MOBI ISBN: 978-1-942083-36-8
Brain Mill Press offers My Tall Handsome for direct sale in ebook and in a limited fine first edition printing of signed, numbered paperbacks. Ebook buyers receive access to MOBI (Kindle), EPUB, and PDF files, offered without DRM restrictions. Print book buyers receive a physical copy of the book as well as access to the ebook files in all formats.
"The twenty-first-century witchery that sprinkles glitter everywhere in My Tall Handsome allows for us to cheer on the speaker in her quest for finding love, seeking revenge—or even raising the dead."
—Ploughshares
"When the cutie-pie was opened, the birds began to sing, and what they sang was glittery and savage and fearless and dangerous—be careful with this book."
—Catherine Wagner, author of Nervous Device
The fanged fairy of Emily Corwin's forest-mud-stained collection asserts and sings with short rhymes and glitter-spells, and just as you've followed her into the deepest and darkest part of the woods, terrified, you're asked to run away together / and promise to never / do this heart-skipping thing / with anyone else.
Don't be surprised when you find yourself answering yes, yes, yes.
Confronting and darling, every word a perfect warm circlet of pink blood, My Tall Handsome raids every crystal jar on the lace-topped vanity for truth, poison, and song until you can't remember why you ever thought pretty was better than powerful, sugar was better than bitter medicine, or dancing needed more music than your own voice.
I sip the goblet down, tip it upside down / wear it as / a hat / I am a new shiny thing / and I steal you away from the hoopla hullabaloo rumpus
You won't resist this kidnapping into the orchard, into the crabapple abracadabra—it is too crystalline a taking, and there are too many delicious chants to chant along the way.
About the Author
Emily Corwin is a Midwestern girl who loves all things pretty and spooky. This past summer, she completed her MA at Miami University, where she studied poetry, and in the fall she will be an MFA candidate at Indiana University in Bloomington. Her writing has been published (or is forthcoming) in Midwestern Gothic, Split Rock Review, The Rain, Party, & Disaster Society, Lipstick Party, and Fractal.
About the Art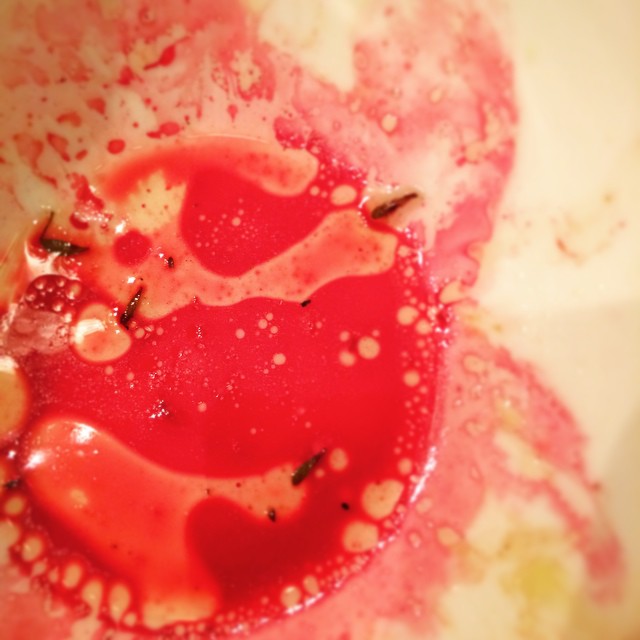 My Tall Handsome features the photograph "Beet Juice" by Courtney Kalmbach. The editors selected this intriguing image for its resonance with Corwin's subversive, saccharine-sweet poetry.
About the Cover Design
Stray King Design interpreted Kalmbach's image in the signature style she created for the Mineral Point Poetry series, with color that carries into the interior of the fine first edition print book and the ebook.
The Fine First Edition
The fine first edition of My Tall Handsome was produced on 70# paper stock in a 5.5 x 8.5″ trim size. Each copy in this 100-copy limited edition is signed by the author and numbered. The edition features Courtney Kalmbach's cover photograph, an illustrated interior motif by Ann O'Connell, and interior color pages.
Along with the fine first edition, those who preorder My Tall Handsome also receive an 8 x 10″ a letterpress print by Kristin Joiner of 622 Press. The two-color print features lines from the poem "pretty pretty princess vs. the underworld," which is included in Corwin's collection, as well as O'Connell's empty dress motif, which illustrates the chapbook interior.
Photo courtesy Laurels & Stars Photography.
About the Illustrator
Ann O'Connell is a Colorado-based illustrator specializing in realistic-looking artwork. She works primarily in colored pencil, watercolor, ink, and graphite. She is currently pursuing a certificate in botanical illustration from the Denver Botanic Gardens School of Botanical Illustration. In her spare time, she recovers from her former career as an attorney and enjoys all that living in Colorado has to offer. You can view some of her work at www.orangeoakart.com.
About the Printmaker
Kristin Joiner first discovered letterpress in college and acquired her own press — an 1882 Pearl Old Style she calls Bess — on Craigslist six years ago. She produces limited-edition prints, greeting cards, invitations, and other custom work on 100% recycled cotton paper with oil-based inks and vintage wood and lead type. Formerly operating in Madison, Wisconsin, Kristin recently chose love and relocated to Bermuda with her boyfriend. You can find her work at 622press.com and on Etsy at 622press.etsy.com.
Excerpt
Excerpt from "pretty pretty princess vs. the underworld"
from My Tall Handsome by Emily Corwin
(c) Emily Corwin, 2016. All rights reserved.
1
my tall handsome, you are always
hydrangea in my rib, popped open
always dazzle of salt on my punched lip
love of life
the he & me I will devour
we beneath black cherry tree
all fruits and crystals on your chest
you were my first body—now and always
forever and ever, in the pink bed rippling
amen.
Extras
Emily Corwin reads from her poem "Pretty Pretty Princess vs. the Underworld"