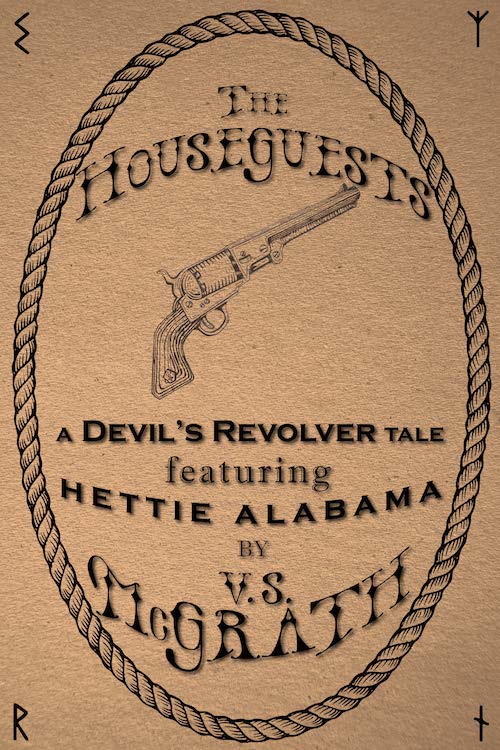 The Houseguests
V. S. McGrath
Sales of The Houseguests benefit RAICES, a nonprofit agency providing free and low-cost legal services to underserved immigrant children, families, and refugees. You may download The Houseguests free of charge or purchase at any price level below to receive the ebook and make a donation to RAICES.
The Devil's Revolver Series • Release Date: September 4, 2019
Brain Mill Press offers The Houseguests in ebook format. Ebook buyers receive access to MOBI (Kindle), EPUB, and PDF files, offered without DRM restrictions.
All of the net proceeds from the sale of The Houseguests (100% of revenue less credit card or Paypal transaction fees) will be donated to RAICES, the Refugee and Immigrant Center for Education and Legal Services, a 501(c)(3) nonprofit agency that promotes justice by providing free and low-cost legal services to underserved immigrant children, families, and refugees.
Eight-year-old Jacob Wheeler doesn't know what to think of the strangers who arrive on horseback at his family's remote farmhouse. The dark-haired bounty hunter has too many guns strapped to his body to be altogether safe, and the dying woman he calls his wife is downright terrifying. But Jacob's parents agree to take the mysterious houseguests in, and he and his twin sister, Mary, can do nothing but watch and wait to learn what this unexpected event will bring into their lives. As the days pass and the woman begins to recover, she only grows more frightening — but Jacob begins to rely on the bounty hunter, who reminds him of the magazine stories about the legendary Elias Blackthorn and his cursed revolver.
In this atmospheric, menacing addition to the Devil's Revolver Series, V. S. McGrath offers readers a glimpse at Hettie Alabama and Walker Woodroffe from the perspective of a boy faced with his first opportunity to grapple with good, evil, and the sacrifices required to protect the people who matter most.
ABOUT THE AUTHOR
V. S. McGrath is a published romance author (as Vicki Essex) and has six books with Harlequin Superromance: Her Son's Hero (July 2011); Back to the Good Fortune Diner (January 2013), which was picked for the Smart Bitches Trashy Books Sizzling Book Club; In Her Corner (March 2014); A Recipe for Reunion (March 2015); Red Carpet Arrangement (January 2016); and Matinees with Miriam (November 2016). She has been featured in the Globe and Mail, Metro Toronto, Torontoist, Inside Toronto, and Canada.com. The Devil's Revolver is her debut young adult fantasy. You can find her on Facebook, Twitter, or her websites: vsmcgrath.com and vickiessex.com. She lives in Toronto, Canada.
Photo by Danielle Blancher