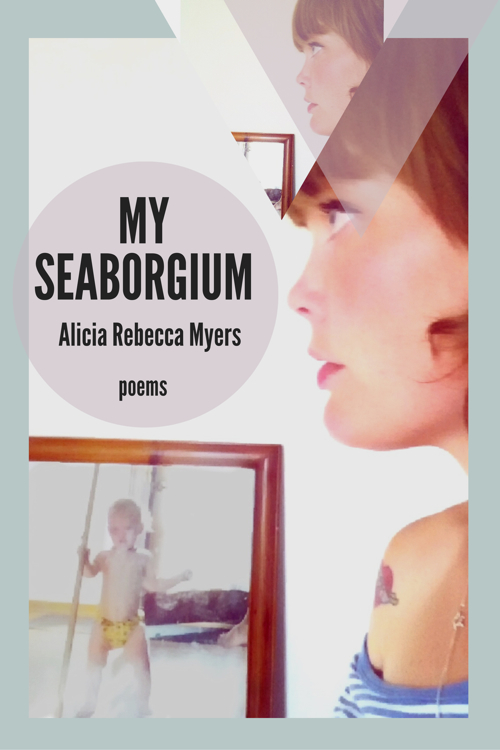 My Seaborgium: Poems
Alicia Rebecca Myers
Mineral Point Poetry Series, no. 2 • Release Date: January 18, 2016
Print ISBN: 978-1-942083-14-6 • Ebook ISBN: 978-1-942083-15-3
Brain Mill Press offers My Seaborgium for direct sale in ebook and in a limited fine first edition printing of signed, numbered paperbacks. Ebook buyers receive access to MOBI (Kindle), EPUB, and PDF files, offered without DRM restrictions. Print book buyers receive a physical copy of the book as well as access to the ebook files in all formats.
"The poems of My Seaborgium utilize metaphor in an attempt to account for the beauty that emerges from our moments of greatest grief. . . . Even through the pain, Myers' speaker struggles to pay attention, to unfold that pain in ways that feel particular and personal."
—Kiki Petrosino
"These poems make music from the most personal moments of growth and life, of pain and love."
—Dina Hardy, Drunken Boat
My Seaborgium sings songs of loss and growth, motherhood and viscera, elements and experience, with love and relatable grace.
"I'll tell you the story," the opening poem coos, "of how / I rolled around in a mail truck full of other / people's letters, I was that happy / to be your mother." This speaker guides us into her expectant waiting, calling on insight from what she knows of her parents, what she thought she knew about her body, fables and gods. She asks all of these potential sources of wisdom to attend to her as forty weeks go by and she tries to detach because "it makes birth manageable," even as she tests her nipples "to see if they lift / away from the breast" while "standing on a mountain / and trying to spot a suitcase on the ground below." My Seaborgium travels toward motherhood from before, during, and after the experiences of pregnancy and birth, as the speaker imagines the thickening of her infant's fur and readies "for the bloody show." The only wisdom she gleans from her passage is the live and atomic feeling that arrives for a child whom she tells to "be your element's namesake / and alive, know it. My Seaborgium." This is a book fat with heavy and wild love.
Named a 2015 Best New Poet, Alicia Rebecca Myers is multiply published in prominent journals and magazines and has been the recipient of a Kimmel Harding Nelson Center for the Arts residency.
ABOUT THE AUTHOR
Alicia Rebecca Myers is a poet and essayist whose work has appeared recently or is forthcoming in The Rumpus, The American Literary Review, Gulf Coast, jubilat, The Carolina Quarterly, The Fairy Tale Review, and Day One. In February of 2014, she was awarded a residency at the Kimmel Harding Nelson Center in Nebraska City. A graduate of NYU's MFA Program, she currently teaches at Wells College. You can find her online at aliciarebeccamyers.com.

AN EXCERPT from My Seaborgium: Poems by Alicia Rebecca Myers
© Alicia Rebecca Myers, 2015. All rights reserved.
Now I want joy to arrange you.
Forget the spool, the queue.
May you crow from the prow.
Be your element's namesake
and alive, know it. My Seaborgium.
My little radish bugaboo, my
pillowfoot jeweler. Sweetgum,
sing, sing to wake the water.