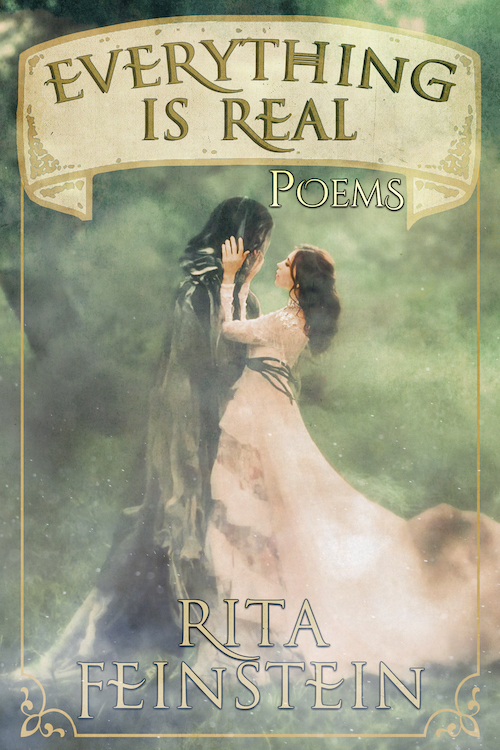 Everything Is Real: Poems
Rita Feinstein
Release Date: October 11, 2022
Print ISBN: 978-1-948559-76-8 • EPUB ISBN: 978-1-948559-77-5 • Kindle ISBN: 978-1-948559-78-2 • PDF ISBN: 978-1-948559-80-5
Brain Mill Press offers Everything Is Real for direct sale in ebook and trade paperback. Ebook buyers receive access to EPUB and PDF files, offered without DRM restrictions. Print book buyers receive a physical copy of the book as well as access to the ebook files in all formats.
For readers of Jeannine Hall Gailey, Emily Corwin, Sasha West, and Rebecca Lindenberg, Rita Fenstein offers a collection of high fantasy, horror chic poetry that mesmerizes with incantations conjuring a lover.  
Rita Feinstein's high-concept collection of tropey, bent, alternative fairy-tale poems interconnect to uncover the lore of a dark romantic relationship that exists in this world and others, using hybridized formal constraints to make portals and gates.  
This is careless, dangerous poetry spoken by a cunning heroine who wants us to believe that "all creation starts with love. And/or violence" and to conflate the two until "my name is throbbing in his throat." Slayers are pitted against lovers, and sex is a spell that creates as often as it destroys. "Once upon a time, all women were foxes and all men were hunters," Feinstein spins. "The older the fox, the longer she had evaded capture, the more tails she grew. Our nine-tailed heroine made running look easy. No man had touched her, and precious few had seen her."
These are poems full of songs and delicious screams.
ABOUT THE AUTHOR
A graduate of Oregon State University's MFA program, Rita Feinstein is currently based in Washington, DC, where she teaches creative writing to kids and teens. Her first collection, Life on Dodge, was selected for Kiki Petrosino's Mineral Point Poetry Series. Feinstein's stories and poems have appeared in Permafrost, Grist, and Willow Springs, among other publications, and have been nominated for Best of the Net and Best New Poets. She lives with her husband, who is a lawyer, and her dog, who is not.
Photo by Andrew Kottick | www.akottick.com
AN EXCERPT from Everything Is Real: Poems by Rita Feinstein
© Rita Feinstein, 2022
Creation Myth
It started with shadowboxes,
tissue paper skies and tinfoil stars,
sloppy edges glopped in glue.
But soon I learned to approximate
northern lights reflected in ice,
honeysuckle climbing cracked stucco,
the shadow of a dragon's wings
passing over a prairie floodplain.
I shelved my craft scissors and began
kneading the molecules with my bare hands.
The boxes outgrew their cardboard frames,
developed their own weather patterns,
biomes, centers of gravity.
Nights here were starrier but colder
so I imagined a lover to warm the bed.
I pulled him from the water like Excalibur.
His uncut hair wrote dark scripture down his back.
Naked, he knelt before the castle
I'd built from lust and river rock.
He laid his shield in the reeds.
The world created man
who created god
who created man.
All creation starts with love.
And/or violence.