Brain Mill Press is excited to announce the winners of the Driftless Unsolicited Novella Contest. The two winning authors receive a $250.00 cash prize, a literary contract with royalties, a first-edition print run, and worldwide ebook distribution of their novellas.
The 2016 submissions to Driftless Unsolicited were outstanding. Brain Mill Press was gratified by the number of excellent submissions, including many from authors with significant honors and awards. This cycle's winning novellas distinguished themselves as the most beautiful stories from a pool of beautiful stories.
We're honored to have received such notable submissions, and to have the opportunity to publish the two winners.
Brain Mill Press announces the winning novellas of the 2016 Driftless Unsolicited Novella Contest in alphabetical order by author:
ROSA
by Barbara de la Cuesta
Prompted by a fifth-grader's oral history project, Rosa begins to think about her life in ways she never has before — her identities as woman, wife, mother; her loves and her losses; her body and how it has been pleasured and abused; the rivers and villages and homes she has occupied in Zoyatla, Lowell, and Boston. Set against the backdrop of a home health care workers' strike and interwoven with the increasing complexity of her personal life, ROSA offers a striking portrait of growth, change, and recollection in late middle age.
Barbara de la Cuesta has one published novel, The Spanish Teacher, winner of the Gival Press Fiction Prize in 2007. A collection of her poems, Rosamundo, will be published this year by Finishing Line Press. In of 2008, she received a fellowship to the Millay Colony, where she completed Rosa. She has also been past recipient of a fellowship in fiction from the Massachusetts Artists' Foundation, and the New Jersey Council on the Arts. Rosa is part of a trilogy of novellas titled Adam's Chair.
GIRLING
by C. Kubasta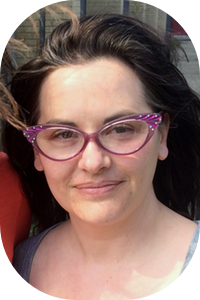 "Fathers believe in the magic of names; they beg and beck from the begats the promise of patrimony secured. First and last, pat. Mothers know children are scrimshawed from their very bones; the leisure hours between danger. Here, hollowness – here, layering ossification, here calcium fragments and broken bits left from the tumble-me-down. The child is made in ambergris, fingernails first." Building on and blending fairy tales with fiction, Kubasta's GIRLING dives into the journey from small-town Midwestern girlhood to womanhood — a transcendent novella seated in the body that documents and celebrates sexuality, change, and the vital role of female friendship.
C. Kubasta writes poetry, fragments, prose and occasional reviews & columns. Her poetry book, All Beautiful & Useless (BlazeVOX, 2015) explored growing up girl in rural Wisconsin; her next poetry collection, Of Covenants, is forthcoming from Whitepoint Press in November 2017. She lives, writes & teaches in Wisconsin, where she is often inspired by the rural, the bodies we inhabit, the subtexts of our relationships & our selves. For each major publication, she celebrates with a new tattoo; someday she hopes to be completely sleeved – her skin a labyrinth of signifiers, utterly opaque. Find her at www.ckubasta.com
Brain Mill Press is also pleased to announce three novellas shortlisted for the 2016 Driftless Unsolicited Novella Contest:
SOMETHING THAT DIDN'T HAPPEN
by Rupert Nacoste
Ro-bear travels back to his childhood home of Opelousas, Louisiana, to try to recover and understand a memory of a mysterious event from his teenaged years. There, he must confront his own suppressed memories of his role in the story of "The Seven": seven black teenagers who are called to a supernatural battle that will determine the direction of civil rights history. 
RULES TO WIN THE GAME
by Matthew Burnside
A teenage runaway with a vivid imagination flees the trauma of his past alongside his kid sister, who happens to be a zombie. RULES TO WIN THE GAME explores the double-edged sword of escapism, residual trauma, and the cyclical nature of abuse — in short, the games we create and play to keep ourselves safe from reality's harsh contours.
Read more about the Driftless Unsolicited Novella Series here.