Brain Mill Press is excited to announce the winners of the Driftless Unsolicited Cover Art Contest. The two winning artists receive a $250.00 cash prize, and their art will appear on the covers of this year's Driftless Unsolicited Novellas in print and ebook in international distribution.
We're honored to have received such notable submissions, and to have the opportunity to work with talented artists to produce beautiful covers for the Driftless novellas.
Winning Selections
#822 from the series "Phonography" by Matt Gold
to be featured on the cover of Barbara de la Cuesta's Rosa
photograph taken on a Sony Ericsson Z310A flip phone camera, without alteration, adjustment, or retouching
About the Artist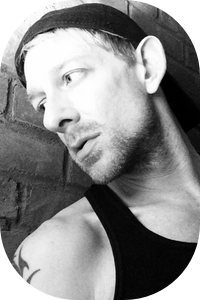 Born in Coshocton, Ohio, Matt Gold is based in Brooklyn, NY, where he divides his time between music and photography. As evidence of the democratizing nature of his approach to photography, Gold has no formal training in the visual arts. His first image, a picture of his cat on a Sony Ericsson Z310A flip phone, was taken in 2008, and he has continued to explore the aesthetic possibilities of that instrument, resisting the updated phones and apps available and revealing a contemporary nostalgia that encompasses the prolific imagery of our visual culture. Gold's work has been featured in numerous publications and journals.
"Warm Ways" by Janelle Cordero
to be featured on the cover of C. Kubasta's Girling
ink and watercolor on paper, 11 x 15″
About the Artist
Janelle Victoria Cordero's expressionist portraits are distinguished by dominating contour lines and sparse watercolor highlighting. Her subjects are often disjointed and unfinished, missing a neck or a limb or a torso, which emphasizes the disconnected nature of the human condition. Her work has been featured in galleries from Washington to West Virginia, as well as published in numerous journals and anthologies. Janelle's artistic priority is to collaborate with other creatives to push for social and political change. Stay connected with Janelle's work at www.janellecordero.com.