For National Poetry Month, we are delighted to highlight work by Brain Mill Press poets Kiki Petrosino and Christine Brandel.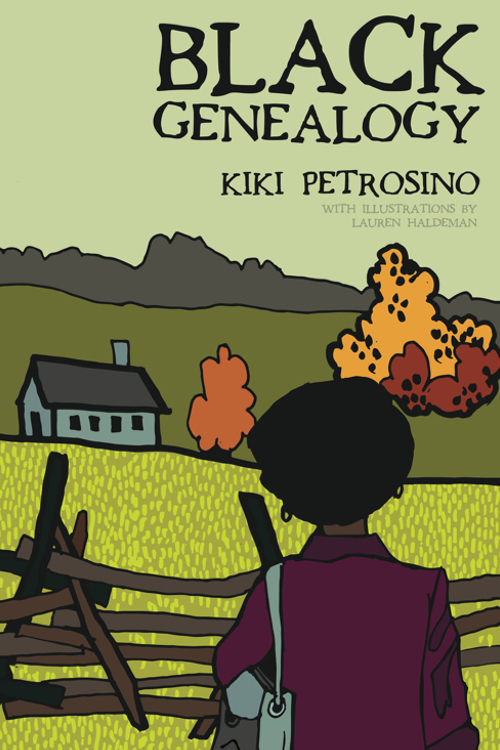 3.
from Black Genealogy by Kiki Petrosino, illustrated by Lauren Haldeman
You're really looking for H, future mother of B. A slave girl born in 1830 to parents unknown. Actually, you think H was born a little before that (exact years may not matter). You find a white man in the county who owned a young female some years before the war. You save this result: Old_Master. You figure that by 1856, your H was 28. Actually, no one recorded her age (her age may not matter). That year, a slave named H gave birth to a son. You save this result: H_Childbirth_1. Later, another H, same owner as the first (now called H56) had a son. You start calling her H59. Actually, you believe they're the same. Of course, you can't prove that H56 and H59 are the same, let alone yours, but exact proof may not matter. You know Old Master owned twelve slaves at most. So what are the chances two of them were called H? You still can't find any sign of B, which troubles you. Until you discover the birth records for the war period: all missing. So of course, there's nothing for B at the courthouse. Nothing at all. You create a new folder called Nothing for this lucky find.
---
About Kiki Petrosino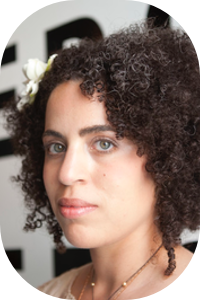 About Kiki
Kiki Petrosino is the author of three books of poetry: Hymn for the Black Terrific (2013), Fort Red Border (2009), and Witch Wife, all from Sarabande Books. She holds graduate degrees from the University of Chicago and the University of Iowa Writer's Workshop. Her poems have appeared in Best American Poetry, The New York Times, and elsewhere. She is founder and co-editor of Transom, an independent online poetry journal. She is an Associate Professor of English at the University of Louisville, where she directs the Creative Writing Program.
Biting the Rind
from A Wife Is a Hope Chest by Christine Brandel
She cautiously caught the bee, sealing it in the thickness
of the unsent letter. To put her tongue so close to potential
danger was the most exciting thing she'd done that morning.
She could hear the bee's wings scraping against paper
that he'd never be able to read. She pushed her chair
away from the table, putting distance, leaving the letter
to the bee to do with what he would. But the clock kept ticking
on her arm and she set her hand on top of the envelope,
not enough weight to crush the bee or smear the words.
She'd just have to be patient, feeling the struggle.
An orange lay within arm's reach and she wanted to tear it open,
drench the whole table with the wordless wetness inside.
But she couldn't do that to the bee. She bit into the rind
and it wasn't fun. Things aren't fun when you can't get out.
---
About Christine Brandel
About Christine
Christine Brandel is a writer and photographer. Her work has recently appeared in Callisto, Public Pool, Under the Rader, Blue Fifth Review, and The Fem. She also writes a column on comedy for PopMatters and rights the world's wrongs via her character Agatha Whitt-Wellington (Miss) at Everyone Needs An Algonquin. She currently lives in Bloomington, Indiana, where she teaches at a community college and serves as a hospice volunteer. More of her work can be found at clbwrites.com.