Fair Day in an Ancient Town
Greg Allendorf
Mineral Point Poetry Series, no. 3
Release Date: February 14, 2016
Length: 52 pp. pp., with interior illustration and foreword by series editor Kiki Petrosino
Print ISBN: 978-1-942083-22-1
PDF ISBN: 978-1-942083-25-2
EPUB ISBN: 978-1-942083-23-8
MOBI ISBN: 978-1-942083-24-5
Brain Mill Press offers Fair Day in an Ancient Town for direct sale in ebook and in a limited fine first edition printing of signed, numbered paperbacks. Ebook buyers receive access to MOBI (Kindle), EPUB, and PDF files, offered without DRM restrictions. Print book buyers receive a physical copy of the book as well as access to the ebook files in all formats.
"Elegant and raunchy, tender and brutal, musically, visually, and erotically ravishing, Greg Allendorf's work is everything I want poetry to be, and I will read this volume again and again."
—Aliki Barnstone, author of Bright Body
"With uncommon linguistic acuity [...] and a delightfully original voice, Greg Allendorf offers up poems that speak—and continue speaking—genuine longing, and the insistent ache of love. These are necessary poems for our young century."
—Scott Cairns, author of Idiot Psalms
"The poems of Fair Day in an Ancient Town are for anyone who has struggled to resolve the crisis of heartbreak through art."
—Kiki Petrosino, author of Hymn for the Black Terrific
"This collection is sure to leave you coming back, day after day, for the unique images and emotive quality of the poetic voice."
—reviewer Nicole Pero
It's April now, complains Allendorf's speaker, and still no desperate gift of unreturned yearning.
The poems of Fair Day in An Ancient Town subvert the glorious, Romantic pastoral into a voice easy to imagine as Walt Whitman's darkly clever younger brother. The object of affection is fake-tanned and an idiot but still crashes a dozen lush masturbatory fantasies—or the speaker and his lover meet as shepherds only to eat M&Ms and abandon each other on bingo night. O, the way his mouth confounded me / and folded on my mouth there in the fold, slyly sings one of Allendorf's shepherd's songs, O, the glory of his hairy arms, / the way they lit my eyes a little then.
Layering complex form, rhyme, and craft over lush horniness and hard wit, Allendorf effortlessly upends romantic poetry and exposes it to the twenty-first century. This is a collection to make the reader laugh out loud and think deep—and then find a way to be alone under the covers.
About the Author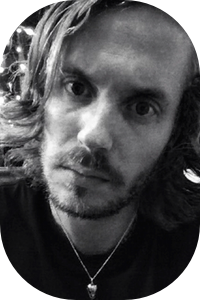 Greg Allendorf is originally from Cincinnati, Ohio. He holds graduate degrees from The University of Cincinnati and Purdue University. His poems have appeared in or are forthcoming from such journals as Smartish Pace, Subtropics, The Portland Review, Narrative Northeast, and Gigantic Sequins. He currently lives in Columbia, Missouri, where he is a PhD candidate and Creative Writing Fellow at The University of Missouri-Columbia.
About the Art
Fair Day in an Ancient Town features the photograph "Prairie Burn" by Barbara Diener. The editors selected this image of a devastated landscape for its resonance with Allendorf's radically transformed pastoral poetry.
About the Photographer
Born in 1982 in Germany, Barbara Diener received her Bachelor of Fine Art in Photography from the California College of the Arts and Masters of Fine Art in Photography from Columbia College Chicago.
Her work has been exhibited at the Museum of Contemporary Photography, Chicago, IL; Hyde Park Art Center, Hyde Park, IL; David Weinberg Gallery, Chicago, IL; New Mexico Museum of Art, Santa Fe, NM; Griffin Museum of Photography, Winchester, MA; Invisible Dog Gallery, Brooklyn, NY; Lilllstreet Art Center, Chicago, IL; Riverside Art Center, Chicago, IL; Pingyao Photo Festival, China; The Arcade, Chicago, IL; Philadelphia Photo Arts Center, Philadelphia, PA; Darkroom Gallery, Essex Junction, VT; and Project Basho, Philadelphia, PA, among others. Diener's photographs are part of several private and institutional collections, including the New Mexico Museum of Art and the Museum of Contemporary Photography.
In 2013 she was selected to participate in two highly ambitious and competitive artist residency programs: the Fields Project in Oregon, IL, and ACRE in Steuben, WI.
Diener is a winner of Flash Forward 2013, the recipient of a Follett Fellowship at Columbia College Chicago, and was awarded the Albert P. Weisman Award in 2012 and 2013. In addition Diener received an Individual Artist Grant from the Chicago Department of Cultural Affairs and Events in 2015.
Diener is currently working as the Photography Collection Assistant at the Art Institute Chicago and teaches Photography at Oakton Community College.
About the Cover Design
Stray King Design interpreted Diener's image in the signature style she created for the Mineral Point Poetry series, with color that carries into the interior of the fine first edition print book and the ebook.
The Fine First Edition
The fine first edition of Fair Day in an Ancient Town was produced on 70# paper stock in a 5.5 x 8.5″ trim size. Each copy in this 100-copy limited edition is signed by the author and numbered. The edition features Barbara Diener's cover photograph, an illustrated interior motif by Ann O'Connell, and interior color pages.
Along with the fine first edition, those who preorder Fair Day in an Ancient Town also receive an 8 x 10″ a letterpress print by Kristin Joiner of 622 Press. The two-color print features lines from the poem "The Presentation," which is included in Allendorf's collection, as well as O'Connell's diatom motif, which illustrates the chapbook interior.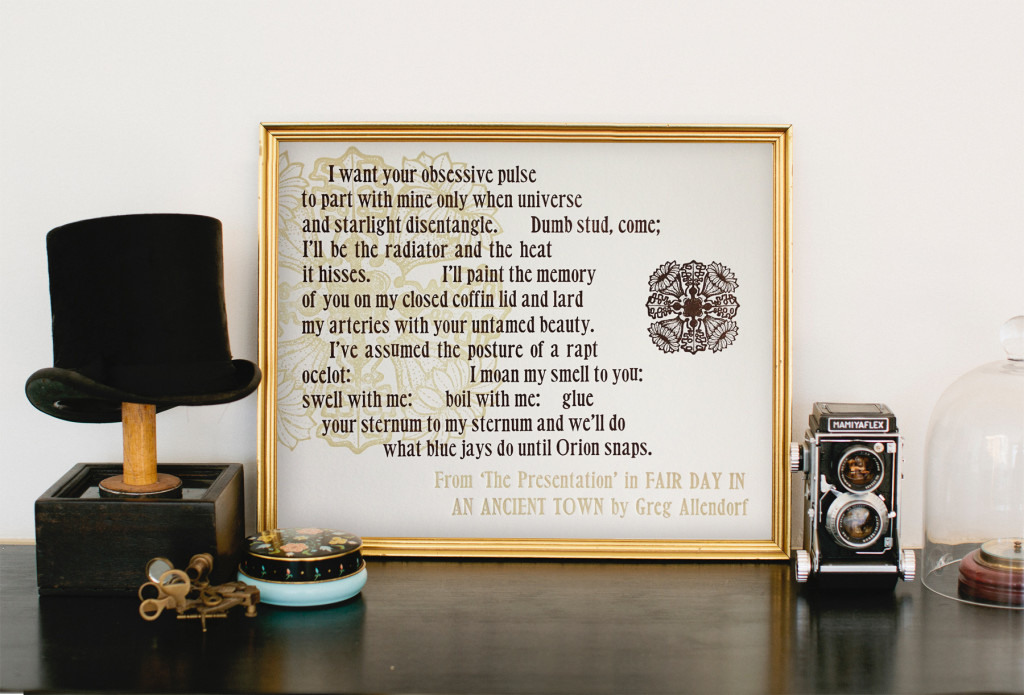 Photograph courtesy Laurels & Stars Photography.
About the Illustrator
Ann O'Connell is a Colorado-based illustrator specializing in realistic-looking artwork. She works primarily in colored pencil, watercolor, ink, and graphite. She is currently pursuing a certificate in botanical illustration from the Denver Botanic Gardens School of Botanical Illustration. In her spare time, she recovers from her former career as an attorney and enjoys all that living in Colorado has to offer. You can view some of her work at www.orangeoakart.com.
About the Printmaker
Kristin Joiner first discovered letterpress in college and acquired her own press — an 1882 Pearl Old Style she calls Bess — on Craigslist six years ago. She produces limited-edition prints, greeting cards, invitations, and other custom work on 100% recycled cotton paper with oil-based inks and vintage wood and lead type. Formerly operating in Madison, Wisconsin, Kristin recently chose love and relocated to Bermuda with her boyfriend. You can find her work at 622press.com and on Etsy at 622press.etsy.com.
Excerpt
"The Presentation"
from Fair Day in an Ancient Town by Greg Allendorf
(c) Greg Allendorf, 2016. All rights reserved.
The Presentation
This is my lordosis: look: my part.
It wants to feel the syllables your heart
putters.          I want your obsessive pulse
to part with mine only when universe
and starlight disentangle.        Dumb stud, come;
I'll be the radiator and the heat
it hisses.                      I'll paint the memory
of you on my closed coffin lid and lard
my arteries with your untamed beauty.
I've assumed the posture of a rapt
ocelot:                                I moan my smell to you:
swell with me:            boil with me:   glue
your sternum to my sternum and we'll do
what blue jays do until Orion snaps.