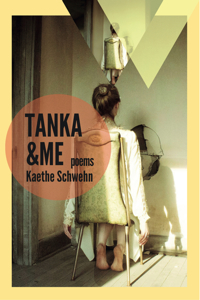 We invited three women writers of genre fiction known for their feminist perspectives and intellectual acuity to read Kaethe Schwehn's poetry chapbook Tanka & Me and share in a roundtable discussion. Today, we are excited to present to you the result — a fascinating and multilayered look at a truly remarkable collection of poems, and a valuable contribution to this month's blog theme, "Women and Identity."
Tanka & Me is available for purchase in both print and ebook editions wherever books are sold, or in ebook and a signed, numbered fine first edition directly from Brain Mill Press.
–Mary Ann Rivers & Ruthie Knox, Publishers
Molly O'Keefe
Amy Jo Cousins
Jackie Horne
JCH: Ruthie Knox hooked me into reading Tanka & Me with the following description: "a collection of feminist love poetry from the perspective of an alter-ego of the speaker, Tanka, who challenges what we think and feel about women and love." After reading the chapbook, I've been wondering: in what way are these poems "love poems"? Or is there a difference between a "love poem" and "love poetry"?
MOK: That's hilarious, if that was the line Ruthie used on me, I completely forgot it. I saw this so much as the wild alter-ego / uncontrollable imaginary friend of a woman feeling and fearing being stifled in her relationships and work and creativity and life. Tanka was so much more than just a creation to explore love–she was that unafraid and unchecked alter-ego that any woman from a pock-marked street in a midwest town that reenacts a bank robbery every year–would have. Should have? Could have?
I am from a pock-marked street in a midwest town – and all this really resonated.
For every sensible decision the "me" was taking–there was Tanka showing her what could be with Pammy out there on the prairie. Or for every doubt or fear she might have—there was Tanka chewing shit up and spitting it out. Making an unapologetic mess of everything.
As for the question love poem vs. love poetry–I only know that there is a difference in my mind that kind of reflects the romance genre. Love poetry owes me nothing—no happy ending, no language parameters, no comfort or solace. With love poems I expect some of that.
AJC: Yeah, I think that's what hooked me too, the feminist love poetry description. And it is love poetry, but for me the love described most piercingly here was a sort of self-love. Not selfish or self-centered necessarily—although that's part of it—but the kind of love of and loyalty to our most passionate self that women lose track of too easily in the midst of all our responsibilities, I think. Molly, I definitely identified a lot with these poems. More so than was quite comfortable, actually.
I did highlight one line in particular (among many) that perfectly captured for me one of the deepest truths of the romance genre, which really made me think.
You can love someone for a long time without knowing how.
I think we humans often have this idea that being in love with someone instantly makes us capable of a kind of grace that just isn't magically conferred by that emotion. Whether it's not knowing how you ended up in love with a particular person, or not knowing how to love them in a way that's healthy for you or offers them what they need, we can spend an awful long time loving someone without knowing how.
MOK: That's such a good point about the perception that love grants us some kind of grace, or that feminine love is something of grace when it can be really graceless and ugly. And should be. Or is and we pretend it's not. Yeah, probably that.
JCH: I was thinking about the differences between the genre of popular romance, which we three all read and write, and love poetry, which definitely does not have to have a happy ending, or offer comfort or solace. Does a love poem, though, have to have a happy ending, or offer comfort or solace? And what kind of language do you expect from a love poem, in contrast to a popular romance novel? If I had to come up with a definition of "love poem," I'd say it's a verse composition depicting a speaker's state of mind as he/she contemplates his/her love object. Most often that state of mind is a happy one, I agree. But it might also be a tortured one: unrequited love, or love remaining even after a relationship has ended.
Maybe "love poetry" is more generally about love, not just love for a romantic object. For a friend, for a brother or daughter, even for one's unrealized but imagined self. In this collection, does the speaker's creation of Tanka express a form of love for herself, the self that she feels unable to be in her everyday reality? Or is Tanka a place where she can put all her anger and frustration and pain, the emotional "mess" that a woman is told not to show other people?
MOK: I absolutely read Tanka as a receptacle for all the things me was not going to show other people. I loved the drinking lemonade scene. She didn't want Tanka to have anymore—and Tanka had already had six cups. What perfect petulant jerks they were both being.
AJC: You've said it perfectly, Jackie. The creation of Tanka is an act of love for the speaker. It's giving herself permission not to be perfect, to be childlike, or childish, to be passionate with grief or perfectionism. All those things, yes, that we often put aside. In the very first poem, "Tanka and You," I loved the stanza that perfectly captured a moment I've experienced more than once as a parent:
Your back returns to aching. The drizzling will not start.
Somewhere else, a school play's just beginning.
Your daughter,
dressed as turnip, fiddles with a Band-Aid in the wings.
What you would not give
for the unblurring of Mount Fuji at the camera lens's
end: snow
chuffed from rock swirling upward into cloud-scudded sky.
We can love our children and admit that sometimes we wish we were wild and free too.
JCH: Can we? Or are we only allowed to when we have a "Tanka," a safe, separate person/place in which to give utterance to those things that are not socially acceptable for a woman to feel?
MOK:  It isn't easy to walk around as a whole, flawed self in this world. The criticism for women–as mothers, as bodies, as wives/partners–it's everywhere.  Conform in some capacity or face the wrath of Facebook statuses…
JCH: That line— "Your daughter, / dressed as a turnip, fiddles with a Band-Aid in the wings," which comes from the opening poem in the chapbook—it made me wonder about issues of time, of chronology in the collection. The speaker here seems to be a mother of an elementary school-aged child. But the poems that follow are from different, earlier points in her life: when she was engaged; when her brother died; when she imagines being a figure in a Western, wooing and losing the aforementioned Pammy (a teenage or even childhood dream?). I guess I'm thinking about why the poems are ordered in the way they are.
AJC: I kept going back to "Tanka to Me" and its reference to Matthew Arnold's poem "Dover Beach." Tanka says, "Sandblast your poems. / Start over. / This world's not any better / for Dover Beach." And I got stuck, because I kept scowling at my Kindle and muttering, "Yes, it is." 🙂 I love that poem, and its similarly confusing status as a sort-of love poem that can be interpreted as so much more. But I also love Tanka's insistence here that the speaker push herself harder, deeper. I think that's key for any creator, and also one of our most dangerous weak spots. Eventually, you have to stop starting over or reaching for perfection and release your creation into the world, where other people will interpret it in ways you never imagined because we all bring our own experiences to the table when it comes to art. Understanding this can be paralyzing. That's when I remind myself that the poem starts with two words, "Try gentle."
JCH: "Try gentle" with yourself as a creative artist? Or be gentle with the art you create?
AJC: "Try gentle" with yourself. Sandblast that art! This may be an entirely personal reading of that those lines in which I find a (needed) message to myself about being kind to myself and saving the criticism for the work.
MOK: I've really been thinking of the last part of the collection–with Tanka in the small rooms and how it felt like she was being put away.  Like there was no time any more for Pammy and the prairie. And that other people in her life were doing a better job at being artful than she was. I have this painting over my desk, a self-portrait my aunt did. In it, her head is covered in a wild growth of flowers, but she's slowly sinking underwater. She said it was the struggle to remain creative against the rising tide of family stuff and life stuff.
JCH: Yes, that rising tide of family stuff, which deadens creativity:
I am becoming deathly afraid that I am normal.
That the neon hills that once erupted in my dreams will not return. . . .
I have a dog and a man and cable and a diamond ring.
I am content.
And the poet in me capsizes.
Does poetry, art, always come from a place of discontent?

AJC: I remember reading a post by Amanda Palmer shortly after she announced that she was pregnant. (Singer-songwriter, married to Neil Gaiman, people seem either to love or to love to loathe her. I find her interesting.) A fan had written her bemoaning the imminent and inevitable descent of Palmer's art into bland mommy pablum. In her reply, Palmer thanked (sarcasm) the letter writer for reminding her of one of her deepest fears as an artist, admitted that she (we) have all indeed seen this happen, but then talked about how she didn't agree with the inevitable part. Like Palmer, I don't believe you have to be discontented to make art, although I think Palmer's probably right when she says that isolation and suffering contribute to being able to make powerful art. I think understanding unhappiness or despair or loneliness in a visceral way helps, but I don't think you need to be in that mental place forever.
JCH: This poem, "Plea," begins with the narrator asking Tanka for her help, and ends with a similar plea: "Who will rescue me from the streamlined whiteness of this place where everyone is a stewardess and longing is an abstract term we discuss before making love?"
The actual end of the poem is the following stark lines, separated by a space:
The domestic is incontrovertible.
Happiness is glowing with her bitch sign.
I'm still not sure how to read these lines. Are they (both) Tanka's response to the poet? That as a woman, you can't ever escape the domestic? And that to be happy (or to be a poet?) you have to glow in spite of the "bitch sign" that any woman is marked with? Alongside of it?

Does Tanka, or the speaker, glow by the collection's end? Or perhaps that's the wrong question to ask. Maybe it's acknowledging the moments when you glow throughout your life, in between the deadening, unappreciated domestic moments?
MOK: "Happiness is glowing with her bitch sign" is probably going to be my next tattoo. I should get that cleared with the author…
In thinking about the end of the book and those two lines–and feeling like Tanka was being put away–maybe she was being absorbed. I like the idea that we don't put away our fierceness or childishness or anger or selfishness in the face of domesticity. But instead we own it and reveal it in smaller ways.
AJC: I think escaping the domestic has long been a privilege afforded to male artists whose wives managed their households, allowing them to live without responsibility for anything domestic. The (admittedly glib) joke about Thoreau's Walden is that it's easy to live a spartan life if you live close to your mom and she still does your laundry. I also think the concept of needing to escape the domestic in order to make art is rooted in an inherent sexism that devalues anything "womanly" as being antithetical to art. I'd like to think in an ideal world men and women both would find value in the domestic and still retain the freedom and fierceness necessary for their art. As a never-married single mom, parenting for me exists as such a contrast to societal norms that my fierceness has only been intensified in the past twelve years. Nothing is inevitable when it comes to life and art. Happiness glowing with her bitch sign would make a pretty killer tattoo though.
Thank you to Brain Mill Press for sharing this fascinating collection with us.
About Molly O'Keefe
About Molly
Molly O'Keefe has always known she wanted to be a writer (except when she wanted to be a florist or a chef and the brief period of time when she considered being a cowgirl). And once she got her hands on some romances, she knew exactly what she wanted to write. She published her first Harlequin romance at age 25 and hasn't looked back. She loves exploring every character's road towards happily ever after.
Originally from a small town outside of Chicago, she went to university in St. Louis, where she met and fell in love with the editor of her school newspaper. They followed each other around the world for several years and finally got married and settled down in Toronto, Ontario. They welcomed their son into their family in 2006 and their daughter in 2008. When she's not at the park or cleaning up the toy room, Molly is working hard on her next novel, trying to exercise, stalking Tina Fey on the internet and dreaming of the day she can finish a cup of coffee without interruption.
Dishing It Out, her last Harlequin Flipside, won the Romantic Times Reviewers Choice award for best Flipside in 2005. Her Superromance Baby Makes Three won the RT Reviewer's Choice for best Superromance in 2006. Her novella, "The Christmas Eve Promise" in The Night Before Christmas, won the RITA in 2009. And her full length contemporary romance Crazy Thing Called Love won the RITA in 2013.
Find Molly on Facebook | Twitter | Goodreads
Molly's Latest Release
For fans of Christina Lauren and Jodi Ellen Malpas comes the next novel in M. O'Keefe's breathtakingly sexy series about a woman called into a journey of the heart, body, and soul.
We played our roles, told each other lies.
But now Dylan is no longer just a mysterious deep voice on the other end of the line. We're face-to-face and our relationship is very, very real.
We still have secrets—but so much is crystal clear:
The thrilling danger.
The raw, naked desire.
The need to keep feeling the way he makes me feel. Forever.
Dylan is putting up walls, trying to keep me safe, but he can't shut me out. He has seen my darkness and rescued me. Now it's my turn, if only he will let me.
About Jackie Horne
About Jackie
Find Jackie on Twitter
Jackie's Latest Release (as Bliss Bennet)
A man determined to atone for the past 
For seven long years, Sir Peregrine Sayre has tried to assuage his guilt over the horrifying events of his twenty-first birthday by immersing himself in political work—and by avoiding all entanglements with ladies of the ton. But when his mentor sends him on a quest to track down purportedly penitent prostitutes, the events of his less-than-innocent past threaten not only his own political career . . . 
A woman who will risk anything for the future 
Raised to be a political wife, but denied the opportunity by her father's untimely death, Sibilla Pennington has little desire to wed. To delay her brothers' plans to marry her off as soon as her period of mourning is over, Sibilla vows only to accept a man as politically astute as was her father—and, in retaliation for her brothers' amorous peccadillos, only one who has never kept a mistress. Surely there can be no such man in all of London. 
When Sibilla's attempt to free a reformed maidservant from the clutches of a former procurer throw her into the midst of Per's penitent search, she is inextricably drawn to the cool, reserved baronet. But as the search grows ever more dangerous, Sibilla's penchant for taking risks cannot help but remind Per of the shames he's spent years trying to outrun. Can Per continue to hide from the guilt and ghosts of his past without endangering his chance at a passionate future with Sibilla?
About Amy Jo Cousins
About Amy Jo
Amy Jo Cousins writes contemporary romance and erotica about smart people finding their own best kind of smexy. She lives in Chicago with her son, where she tweets too much, sometimes runs really far, and waits for the Cubs to win the World Series. For updates on her new releases, subscribe to her newsletter.
find Amy Jo on Facebook | Twitter | Goodreads
Amy Jo's Latest Release
When talking fails, it's time to break out the big guns.
Bend or Break, Book 5
Five years ago, Tom Worthington busted his ass to overcome the fear and paranoia that led him to withdraw from the world and nearly lose his boyfriend. He never thought he'd find himself right back there, shutting Reese out, keeping secrets again.
Reese Anders is ready to try anything to get Tom to talk: if he can't seduce his boyfriend with food, he'll get Tom to open up in bed. But even Tom's confession that his dad is getting out of prison soon doesn't clear the air between them. And as the holidays approach, intensive mentoring from a new British boss creates more distractions, until Reese is keeping secrets of his own.
At a company Christmas party, it only takes Tom one look at Reese's new boss to figure out how much danger their relationship is in. But he's not about to let the connection that started all those years ago at Carlisle come to an end. It's time to deal with their problems like adults. Face to face. Or back to front. Starting in the bedroom.
Warning: This book contains two adorable guys with way too many secrets, conciliatory rigatoni, a bedroom lesson on the power of multitasking, and indisputable evidence on what makes the perfect holiday HEA.